2016/03/07
Analysis: 2016 Iranian Parliamentary & Assembly of Experts Election Results
This past 26 February 2016 the Islamic Republic of Iran held one of its most important elections to date to choose the tenth Islamic Consultative Assembly, or parliament, and fifth Assembly of Experts. Nearly 34 out of 55 million people, or approximately 62 percent of the eligible Iranian electorate, turned out to vote. The elections saw gains for moderates, including centrists and reformists, and notable losses for hardline conservatives in Tehran. While these results allow us to make some preliminary projections about the tenth parliament and fifth assembly, certain aspects still remain to be determined.
This 2016 Iranian elections saw the continuation of at least three main trends that began with the 2013 Iranian presidential elections. First, centrists and reformists, who converge on many issues but had often found themselves at odds with one another between 1997 and 2013, have continued to work together to minimize vote splitting and maximize their chances of winning. Second, traditional and hardline conservatives have continued diverging over differences on the economy and foreign policy. Finally, the Iranian electorate by and large appears to have decided to participate in the elections after speculation that a majority could choose to boycott over concerns of electoral fraud and unfairness.
THE CAMPAIGN
The reformists entered the parliamentary election with a mass-registration strategy over concerns that the Council of Guardians would disqualify most of their aspiring candidates, especially well known figures. The logic behind this strategy appears to have been that, even if most of these aspirants were disqualified, enough would make it through for reformists to compete in most electoral districts in the country allowing them to mobilize their large popular base to build a sizeable parliamentary bloc. Only around half of aspirants for parliament and 20 percent for the assembly were qualified to participate as candidates in the elections, excluding many prominent reformists associated with the sith parliament and Green Movement. Under these circumstances,  it became clear to reformists that their mass-registration strategy could not be relied upon to reach victory by itself, leading to a shift to an exclusion strategy. Under this strategy centrists and reformists created a Comprehensive Reformist Alliance, or Hope List as former President Mohammad Khatami called it in a short video shared widely online, in both the parliamentary and assembly elections.
This list sought to mobilize their supporters behind a coterie of reformist, centrist, and traditional conservative candidates with the aim of preventing mainly hardline conservatives, running under the Grand Principalist Alliance or Principalist List, from winning. Many traditional conservatives led by Ali Larijani and the Followers of the Leader parliamentary faction, for their part, decided to not run on the Principalist List due to the differences with hardline conservatives noted above. It is important to note that while reformists, centrists, and traditional conservatives are in a tacit alliance under the Hope List in the elections, many traditionalists did not formally consent to enter this alliance. This, added to the fact that election lists are often more cohesive than the parliamentary factions eventually formed from their members means that the Hope List's winners may not agree on a wide range of issues in the new parliament.
THE RESULTS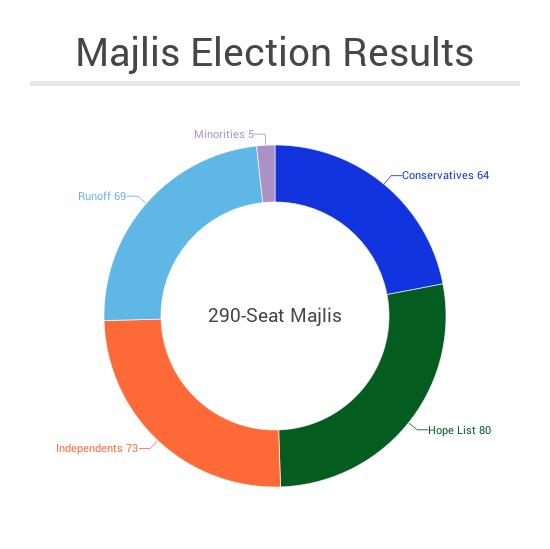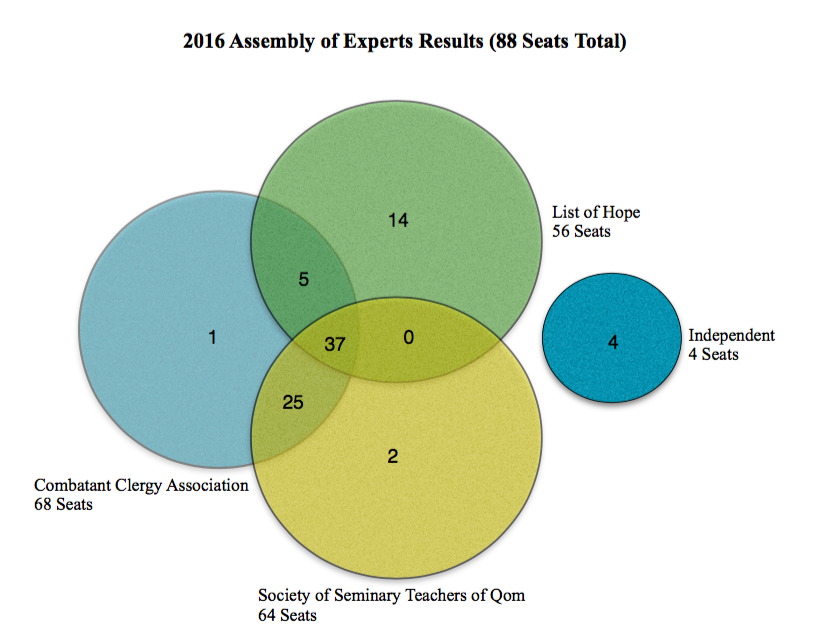 We calculated our preliminary estimates for each of the 2016 Iranian elections by comparing the names on the official lists with the results in each electoral district. Those who won a seat but were not named on a list were categorized as "Independent". Although many candidates ran as independents, we did not categorize them as such if they were on one of the above lists. In the parliamentary elections one member of parliament, Mohammad-Mehdi Mofatteh, is on both the Hope and Principalists lists. There was a much greater degree of overlap in the assembly elections.
In the parliamentary elections the Hope List, made up of centrists, reformists, and traditional conservatives, performed the best with 80 out of 290 seats or 27.5 percent, followed by the Principalists List with 64 seats or 22 percent, independents with 73 seats or 25.1 percent, and religious minorities with 1.7 percent. A total of 69 seats or 23.7 percent remain to be determined in a second round of runoff elections in approximately a month. In the assembly elections the largely conservative Combatant Clergy Association performed the best with 68 out of 88 seats or 77.3 percent, followed by the largely hardline conservative Society of Seminary Teachers of Qom with 64 seats or 72.7 percent, the largely centrist-traditional conservative Hope List with 56 seats or 63.6 percent, and finally independents with four seats or 4.6 percent. There is a large overlap  between the assembly lists, with 37 assemblymen even appearing on all three lists
ANALYSIS
While these results allow us to make some preliminary projections about the tenth parliament and fifth assembly, much still remains to be determined. In the parliamentary elections the Hope List appears to be winning overall in the first round. However, it is unclear how Independent votes will be distributed between the Hope and Principalist lists. Furthermore, we should keep in mind that 30 out of 80 of the Hope List's victories were in Tehran, while the Principalists List seems to have performed better outside the capital where the runoff elections will decide the allocation of the remaining 69 seats. Can the Hope List maintain momentum and mobilize Iranians like it did in Tehran and win the runoffs, or will Principalists go on the counter-offensive? As of the time of writing the possibility of either a Hope or Principalist list majority in parliament remains open. With all of this in mind here are a number of preliminary thoughts on the election results.
Hardline conservatives have been left significantly weakened by the loss of key leaders and figures in Tehran, including former Speaker Gholam-Ali Haddad-Adel in Parliament and Chairman Mohammad Yazdi in the Assembly of Experts, after winning none of the capital's 30 seats in parliament and only one of its 16 seats in the assembly. This leaves open the very strong possibility that the next parliament and assembly will be less hardline. Even if hardliners eventually gain a majority in parliament following the runoffs, their leadership vacuum leaves their effectiveness as a bloc in question. Moreover the entry of the Hope List, made up of centrists, reformists, and traditional conservatives, into parliament is likely to make the legislature somewhat more politically diverse and, in the absence of the polarization of the past, maybe even more technocratic. While centrists and traditional conservatives in the Hope List are unlikely to support sweeping social and political changes sought by reformists, a victory for this list is likely to lessen resistance to President Hassan Rouhani's economic and foreign policy agenda in parliament. A victory for the Principalist List, in contrast, would likely increase resistance depending on the leadership and direction of the new hardline conservative parliamentary factions. While the new assembly will remain staunchly conservative, there is a now a core of 15-20 assemblymen centred on the Hope List who could prove important in the event of a supreme leader succession.